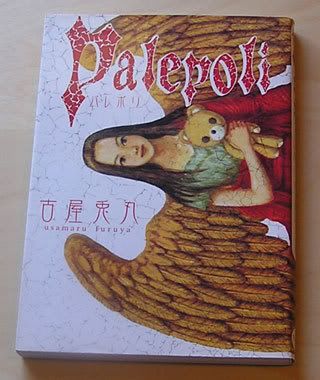 Palepoli
(パレポリ)
by Usamaru Furuya (古屋兎丸)
Published in Garo (Seirindo)
1 volume (1994-1996)
Amazon.jp
Clearly the work of a recent art school graduate.
Palepoli
has achieved minor recognition for its excerpts reprinted in Secret Comics Japan (it also provided the cover art), so it might look familiar to some readers of this blog. Furuya has really charted a bizarre course with his career: probably the last big successful artist to spring from the pages of venerable old Garo, he went from this book, a veritable bible of clashing art styles, artistic deconstruction/experimentation and subculture attitude, to
Short Cuts
, a snarky, sarcastic take on mainstream Japanese pop culture and sexual fetishes, to
Pi
(Pai), a headfirst dive into and acceptance of those same values packaged as the search for "the perfect breasts." But enough about falls from intellectual grace; let's indulge in the past.
Palepoli is a real joy to behold. It employs a 4-panel gag structure that differs from the linear vertical style of typical newspaper strips, rather having the four panels arranged into a square and progressing from UR to UL to LR to LL. The artistic methods Furuya uses often differ wildly from page to page. His most common tool is the use of heavy tones that are cut in crosshatch patterns to emulate elaborate texture and shading, but he also tackles a variety of other styles such as pointillism, European woodcuts, early 20th century cartoons, ubersimple Japanese pop art, as well as individual takes on artists such as Picasso, Michelangelo, Tezuka and Fujiko Fujio's Doraemon. Much like the presentation, the content varies immensely, from simple slapstick gags and wordplay to surrealist humor to serious conceptual pieces. Furuya establishes several recurring skits and situations which he revisits from time to time. One of my favorites is a series combining Furuya's humor and structural experimentation called the "Rejection Ghost." Each entry features Furuya sitting at his desk finishing up the page we are presumably reading. A comical-looking ghost comes out of the wall and dismisses the manga by sabotaging it in some way (doodling on it, crumpling it up, slapping an inky handprint on it, etc.), much to Furuya's horror. The kicker is that since this is the very page we are reading in the book, the signs of the ghost's mischief appear directly on the page, thus, the installment in which the ghost crumples the page appears to have been crumpled up and hastily smoothed out again. Such playfulness can be seen throughout Palepoli.
Another one of the more striking series in the book are the double-image portraits, where Furuya draws four scenes that also form famous faces when seen in a different light. He depicts the four Beatles singing Let It Be out of people contemplating by the waterside, then does up four central characters of
Doraemon
as people having sex, accompanied by the lyrics of the theme song, which now carry a much more sensual meaning. Heaviest of all is a take on the well-known Japanese saying, "Are there no Gods or Buddhas?" The four pictures are of scenes of suffering (a hung man, two men burned at the stake, a dinosaur weeping for its dead child, and an atomic bomb explosion) all lamenting the question at hand, while their images also form recognizable depictions of Jesus, Buddha, etc, the title of the piece being "Gods and Buddhas Are There."
The melding of all these disparate elements and styles is dizzying at first glance, but the high level of execution and polish makes each pleasing to take in on its own, and despite what the entire package might suggest, there is really a minimum of avant-garde difficulty for difficulty's sake, though a general knowledge of the various artists and comics being parodied will undoubtedly lead to a more rewarding experience. It's a book that chooses its readers, but is very worthwhile for those chosen few.